Kitchen Porter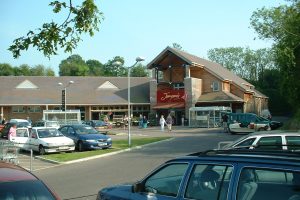 Peasmarsh Restaurant
Main Street
Peasmarsh
Nr Rye
East Sussex
TN31 6YD
Contract: Full time
Hours: Minimum 40 Hours p/w - Monday to Friday
Job Description:
We are currently recruiting for an Assistant Development / Kitchen Porter to join our busy kitchen team.
We are looking for enthusiastic person with an interest in food and a willingness to learn.
You need to be a team player who enjoys cooking with locally produced ingredients and working in a fast-paced environment. We'll offer you development and training to increase your knowledge and skills.
With your love of food and your appetite to provide an exceptional food for our customers, you'll work with the Executive Chef and her team to prepare delicious food at the Development Kitchen
You'll always be looking to maximise income opportunities by minimising waste and controlling costs and resources. With your attention to detail, you'll ensure each dish is fresh, tasty and beautifully presented every time.
As a member of the catering team, you will contribute to the daily requisitioning, cleaning, preparation and production in all areas to meet Jempson's agreed standards in line with legislative standards and agreed procedures.
To make this happen we need to ensure our Development Kitchen is presented to the highest standard and are compliant with all relevant legislation around food hygiene and COSHH. You will work effectively with the team to deliver great results.
28 days holiday (including bank holidays)
Duties and Responsibilities:
Cleaning and sterilising countertops, kitchen walls, stoves, ovens, grills and sinks
Cleaning the entire kitchen once it is closed to ensure it is ready for the next day
Maintaining the food storage areas like freezers and refrigerators
Receiving deliveries and organising them in the kitchen
Washing dirty dishes like cutlery, pots, cutting boards and pans or loading dishes into the dishwasher
Removing kitchen waste from waste containers and disposing of them properly
Cleaning and maintaining cooking equipment like cookers, pots and food mixers
Supporting the Chef in basic food preparation like cutting ingredients, peeling and washing food items
Providing assistance to Prep Cooks and other kitchen staff, as needed
Hourly rate: According to experience
KNOWLEDGE, SKILLS AND EXPERIENCE:
NVQ Level 2 Preparation & Cookery or equivalent
Holds Food Hygiene certificate level 2 (including allergen training)
Skills:
Ability to use own initiative
Enthusiastic
Good communicator
Good team player
Attention to detail
Good time keeper
Good level of personal hygiene
Self-motivated
Adaptable to cope with peaks and troughs of business
Essential Experience:
Has previous kitchen experience
Has worked as part of a team
Proven ability in carrying out instructions
Wants to use the experience able to be gained from this role to further career and develop skills
Reliable transport is required
Apply for this position:
If you would like to apply for this position please complete and return an APPLICATION FORM to:
Minerva Jensen, Jempson's Peasmarsh Restaurant , Main Street , Peasmarsh , Nr Rye , East Sussex TN31 6YD