Additional COVID19 Precautions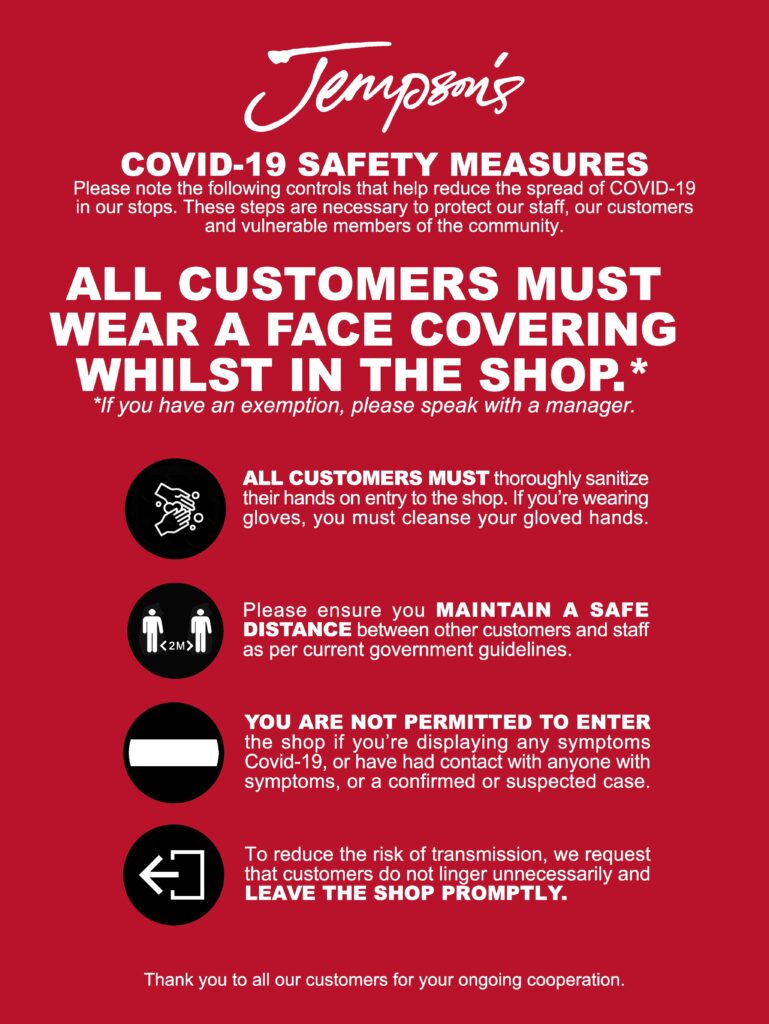 We continue to take every measure possible to keep everyone safe and reduce the risk of spreading the infection, and would like to remind customers that the below steps are necessary to protect our staff, our customers and vulnerable members of the community.
ALL CUSTOMERS MUST:
Wearing a face covering in-store is mandatory (on entry and during your time in store).
If you don't have your own, please speak to a colleague for help. Refer to the latest Government advice for exemptions.
Sanitize their hands with the hand-wipe provided on entry to the store. (If you are wearing gloves, you must wipe your gloved hands).
A stringent surface sanitizing routine throughout the store is in place. However, we encourage you to retain the hand-wipe and use it to wipe the handle of your basket or trolley.
For your own safety and the safety of others, please ensure you maintain the 2 metre (6') distancing rule between other shoppers and staff AT ALL TIMES whilst in the store.
Customers are asked to practice good respiratory hygiene at all times – coughs and sneezes spray infection through the air. Please cough into your elbow or shoulder.
PLEASE DO RESPECT ALL OUR COLLEAGUES.
May we thank you for your continued cooperation.
Stephen and every colleague in every store say "THANK YOU" for the many kind compliments we have received.